Dazor Introduces High Efficiency LED Spotlight
St. Louis, Missouri, USA. January 20, 2014.
The New Evolution of LED Task Lighting
Dazor's new Saturn LED Spot is the latest generation of high quality energy efficient lights designed for the most demanding visual tasks. It is a vision tool for use in a variety of professional environments. "Many fixture manufacturers imply their light will last for the full LED life published by the chip manufacturer", according to Stan Hogrebe, President of Dazor. "In practice they rarely do. The reason is most fixture manufacturers do not have the expertise, or take short cuts in materials or production, in designing the proper combination of electrical, thermal, mechanical and optical system components."
Super Energy Efficient
Lighting (luminous) efficacy is a common measure of a fixture's efficiency. It is the amount of light produced compared to the amount of power consumed to produce it. "The Saturn LED fixture produces 600 lumens while consuming total power of 5.5 watts, or an efficacy of 109 lumens per watt", says Engineering chief Ann Settlage. "An incandescent bulb produces 1200 lumens by consuming 75 watts, resulting in efficacy of 16 lumens per watt. 90% of the total output of an incandescent bulb is heat --- not light. The Saturn light requires less than 1/10 the energy to produce 7 times the light intensity."
Using less energy, saving money, and environmental friendliness are all quantifiable advantages of the Saturn LED light over other light sources.
Light Quality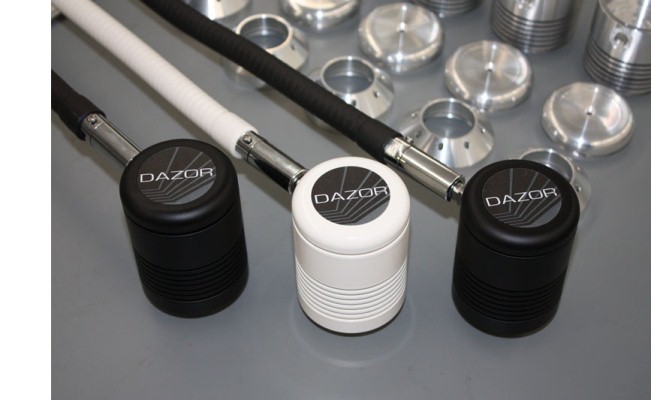 But what about the quality of the light generated by the LEDs? "All the numerical benefits don't mean a thing if a user doesn't like the lighting", says Hogrebe. "In its infancy as a new and alternative light source, LED manufacturers rushed to sell LEDs into the marketplace and fixture manufacturers were happy to install them into poorly designed fixtures. The result was lighting fixtures which housed LED technology that produced unappealing light and poor performance that didn't live up to expectations. That's still the case today when shortcuts are taken. Pleasing, uniform, color accurate illumination meeting expectation is exactly what we designed into the Saturn LED light".
The Versatile Saturn LED Task Light
The Saturn LED light has a precision smooth on/off dimming control machined into the sleek, high-tech aluminum housing with a choice of optical beam spreads to suit user applications. The fixture is available on a gooseneck or counterbalanced floating arm and can be mounted to horizontal, sloped or vertical surfaces, a rolling or pedestal floor stand, or onto any end-user equipment. The Saturn LED series is UL / cUL listed and CE marked. It is manufactured in St. Louis, Missouri.