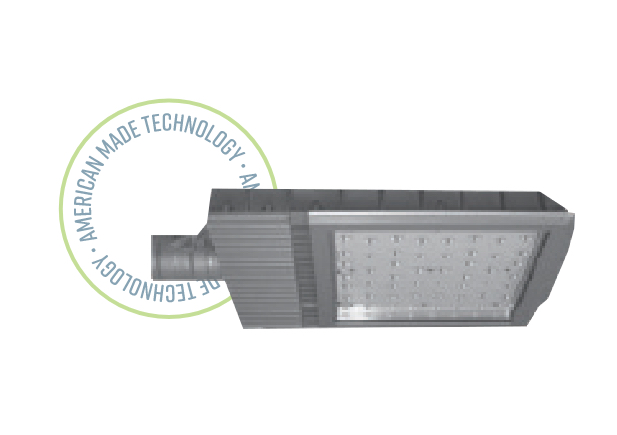 LED
Area Light
The Area Light is a powerful outdoor LED luminaire designed to complement and securely illuminate architectural environments and roadways. It is deployed for high-output illumination in office complexes, campuses, parking lots, streets, and roadways where safety as well as design are top priorities.
STANDARD FEATURES
Dimmable 1-10V
Warrantied in the USA
Toxin-Free Paint
Wet Location Rated
Temperature Range: -40°C - 40°C
Weather Resistant Coating
10 Year Warranty
Options
Photocell Sensors
Backup Battery
Motion Sensors
347-480V Drivers Available
Finish

Optics
The Area Light is available in color temperatures of 4000K and 5000K with 86 CRI for maximum nighttime visibility. Unit lenses can be optioned as tempered clear flat glass, or tempered prismatic glass. Output is especially shaped for roadway appropriate illumination. LM-79 reports are available upon request.

Electrical
Units are available in wattages of 180W and 300W, providing 17,685 LM and 38,089 LM of output, respectively. Input voltage is available in a standard 120~277V, with 347~480V drivers as an option. Fixture lifespan is rated for 50,000 hours or greater, equivalent to 12 years of function at 12 hours per night.

Construction
The IP67-rated, die cast aluminum housing provides structural strength along with resistance to corrosion and impact. The luminaire is rated for wet location usage. The housing integrates heat management and is rated for operation from -40º to 40ºC. Superior thermal management allows electrical and optical components to operate at optimal efficiency with exceptional component longevity.

Mounting
The Area Light mounts via slipfitter, wall bracket, yoke, or an two-piece swivel bracket. The modular design aims to maximize versatility in installation and design.
Sample Order: ASDZ30-300-50-C-F-Z
Series
Wattage
CCT
Voltage
Lens
Optics
Finish Color
Options

ASDZ30 =Area Light

-300 = 300W

-50 = 5000K

Blank = 120-277V

-V = 347-480V

-C = Clear Glass

-P = Prismatic Glass

-A = Type 1

-B =Type II

-C = Type III

-F = Type V

-Z = Bronze

R7=7-Pin ANSI C136.41-2013 Twist

Lock Receptacle

SF=Single Fuse

DF=Double Fuse

SP=Surge Protection


P40=P18140 110-120VAC Instant

P42=P18142 110-277VAC Instant

P50=P18150 120VAC Time Delay

P52=P18152 277VAC Time Delay
Part No.
Watts (W)
Input Voltage
(VAC)
Efficacy (Lm/W)
Lumens(Lm)
CRI
CCT (K)
L70 (Hours)
Dimensions in Inches (L*W*H)
ASDZ30
310
120-277 347-480
130
41,000
> 80
4000 5000
50,000
27.75*4.13*15.13