Every Dazor industrial task light and lighted magnifier is designed and manufactured to provide individual users complete freedom in controlling the position, direction and volume of light needed for their work task. Individual control over lighting is critical for reducing worker fatigue and errors, while increasing productivity and personal comfort.
Dazor task lights and lighted magnifiers are engineered for frequent daily use in the most rugged industrial environments. These lighting fixtures are arguably the most important part of any workstation or toolbox where a person is required to perform their task with accuracy every day, all day.
Within the industrial and electronics marketplace, Dazor offers a variety of task lights and mounting solutions for your individual workspace requirements.
Machine task lights are designed to provide concentrated spot lighting onto a specific machining operation while resisting the extreme conditions occurring within its immediate area. Dazor machine lights give priority to the needs of the user: provide easily targeted light where it's needed without shadows or glare, withstand particles and lubricants circulating within the workspace, and perform reliably every day without downtime or maintenance.
Broad area task lights and work bench lights provide individualized and adjustable lighting in workshops, assembly operations and laboratories. Much research has been conducted on the relationship between lighting conditions, worker productivity, and opportunities for energy cost savings. Since our ability to "see" differs widely from person to person, and even our own lighting needs may vary throughout the day, outfitting workstations with personalized task lighting makes good business sense. Dazor's extensive line of broad area task light solutions allows you to choose the precise fixture required for your specific work environment.
Lighted magnifiers play a critical role in the efficient and accurate assembly of small parts, soldering, rework, quality control inspection, and in many research and development applications. A high quality lighted magnifier is the most important tool a worker can use to enhance vision and reduce errors. Key features of Dazor's lighted magnifiers include the highest quality distortion free optics available on the market, multiple options for magnification power requirements, ease of positioning the head without drifting or bouncing, a selection of light color temperatures, and reliability over time even with frequent daily use.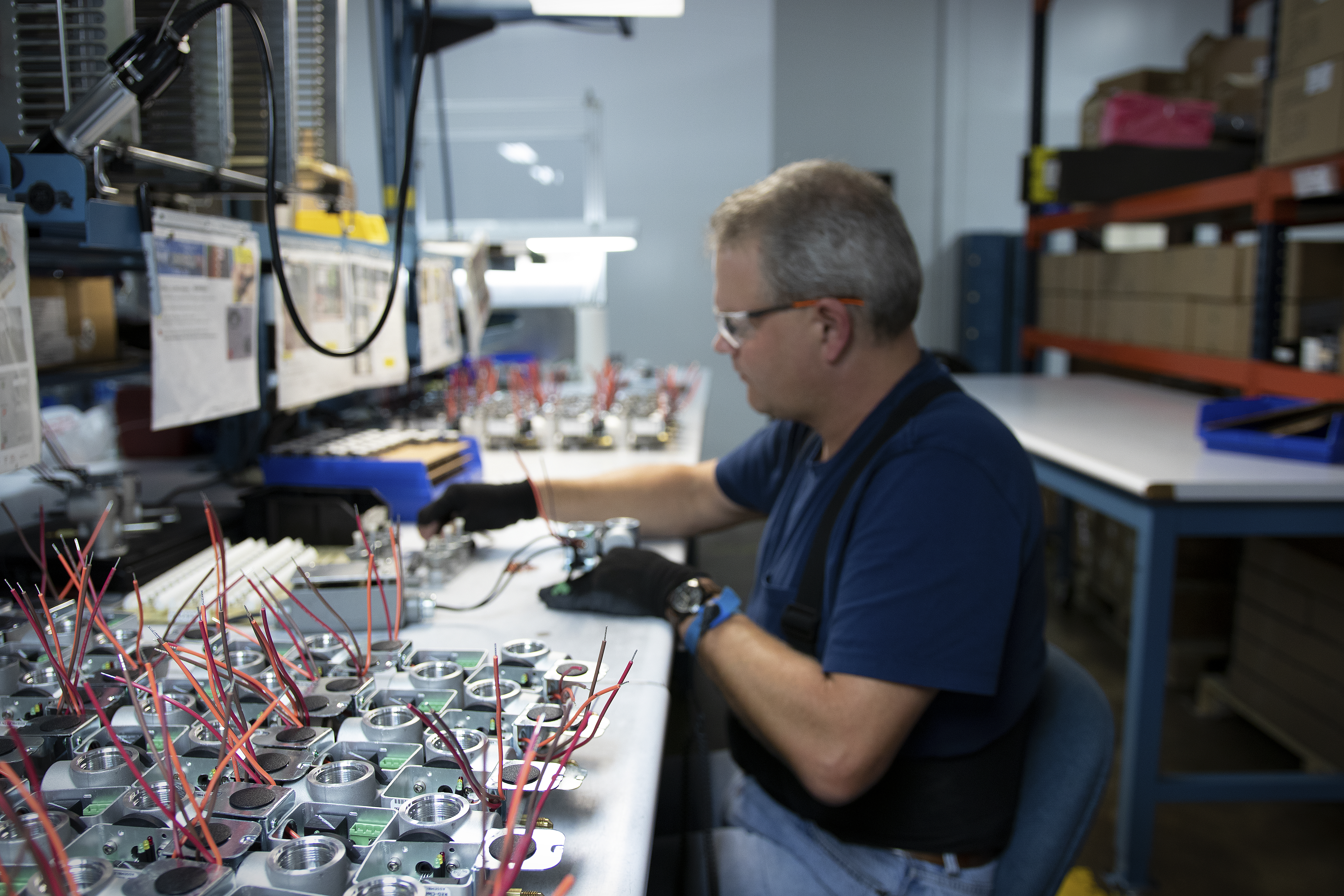 Dazor lights are manufactured in St. Louis, MO. Our designs are time tested and produced with quality craftsmanship at a value price. We pay attention to the details and stand behind our products with a 5 year warranty and outstanding customer service. The steel, aluminum and plastics are from USA suppliers and the die-casted parts are produced from American materials recommended by the North American Die Casting Association. Painted parts are power-washed at high temperatures using environmentally friendly detergents and carefully finished by an American worker using either a high-grade Sherwin Williams semi-gloss or textured powder-coating finish. Our durable and attractive finishes stand up to years of daily cleaning using ordinary cleaning agents. Where applicable, Dazor fixtures are UL and cUL listed and comply with CE standards. Our industrial task lights and lighted magnifiers are available in virtually every international electrical configuration for shipment anywhere in the world.