LED
Artisan Craftsmanship Meets Modern Day Technology
EcoFlex LED Desk Base Light
Dazor's EcoFlex Series of LED tasks lights provide an ideal beam of light for performing detail work or close examination of objects and surfaces. Designed in consultation with industry experts, the innovative EcoFlex by Dazor is an affordable, rugged and environmentally friendly LED task light.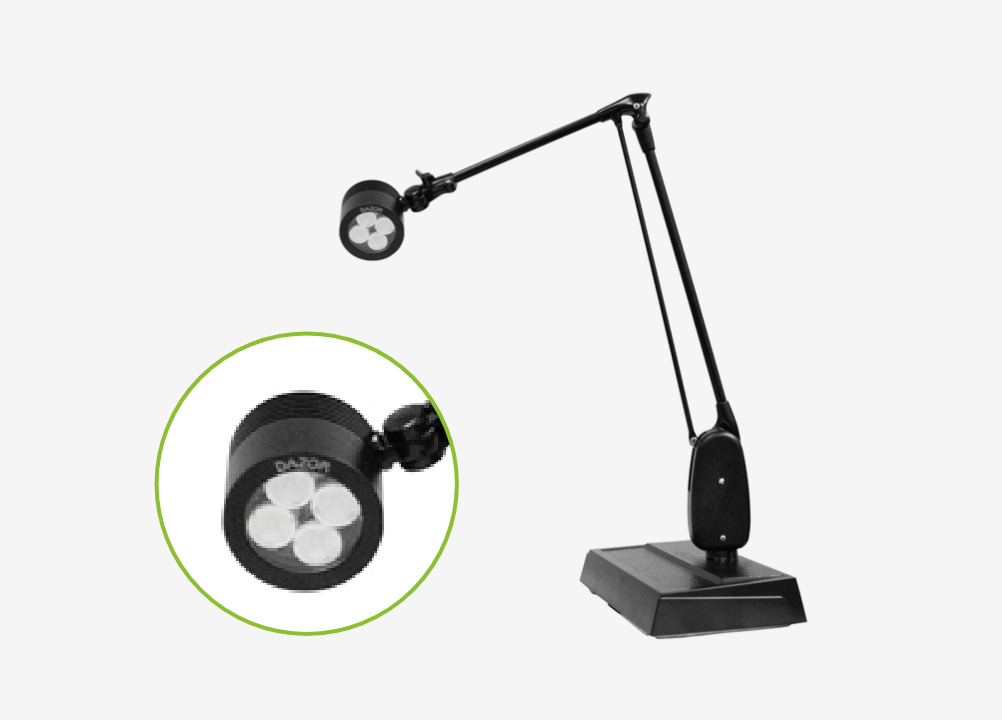 EcoFlex I
Includes 4 high brightness white LEDs optically mixed for an even light pattern.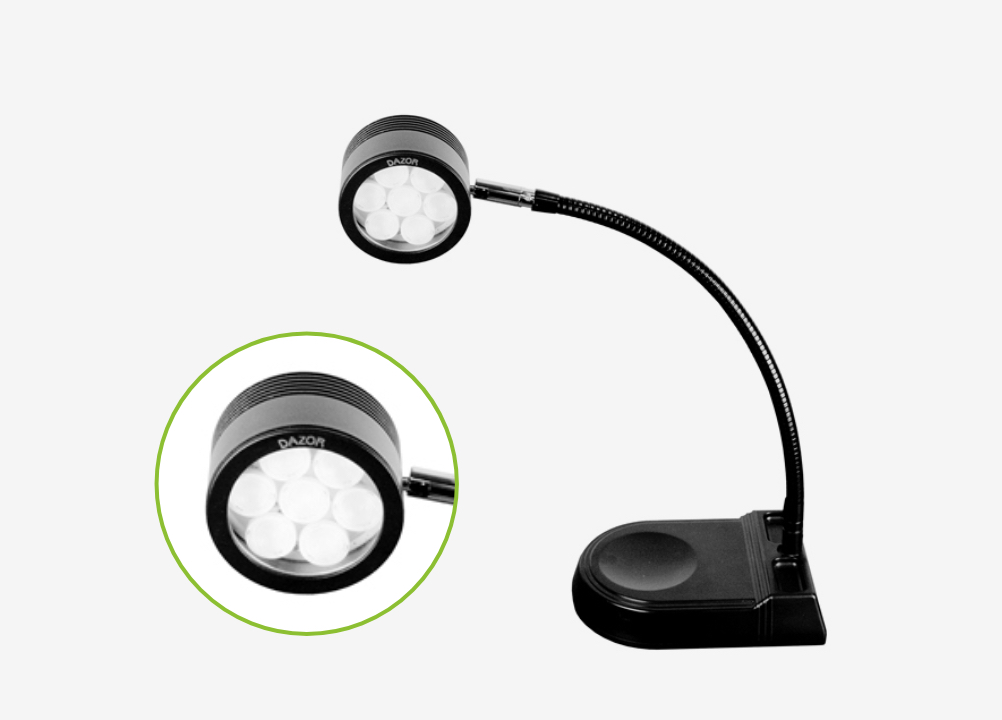 EcoFlex II
Includes 7 high brightness white LEDs optically mixed for an even light pattern.
LIGHT OUTPUT
The Dazor EcoFlex task lights features high brightness white LEDs optically mixed for an even light pattern. The Ecoflex I produces 350 lumens while the EcoFlex II produces 700.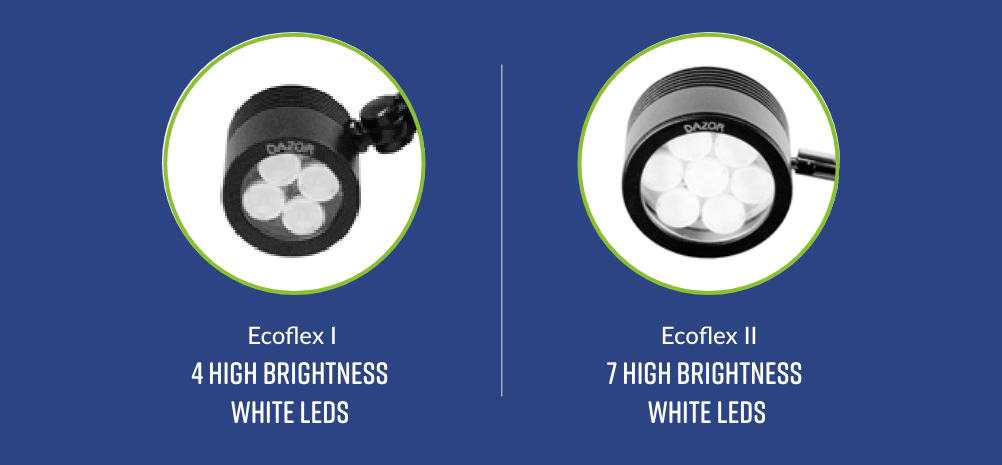 FOCUSED OR DIFFUSED
Dazor's task lights fall into 2 broader categories, focused or diffused. Our larger shade task lights emit a broader diffused light pattern which works best for illuminating larger surfaces or objects. Our focused beam task lights have a much smaller shade which directs the light in narrower beam which works best for working on smaller tasks.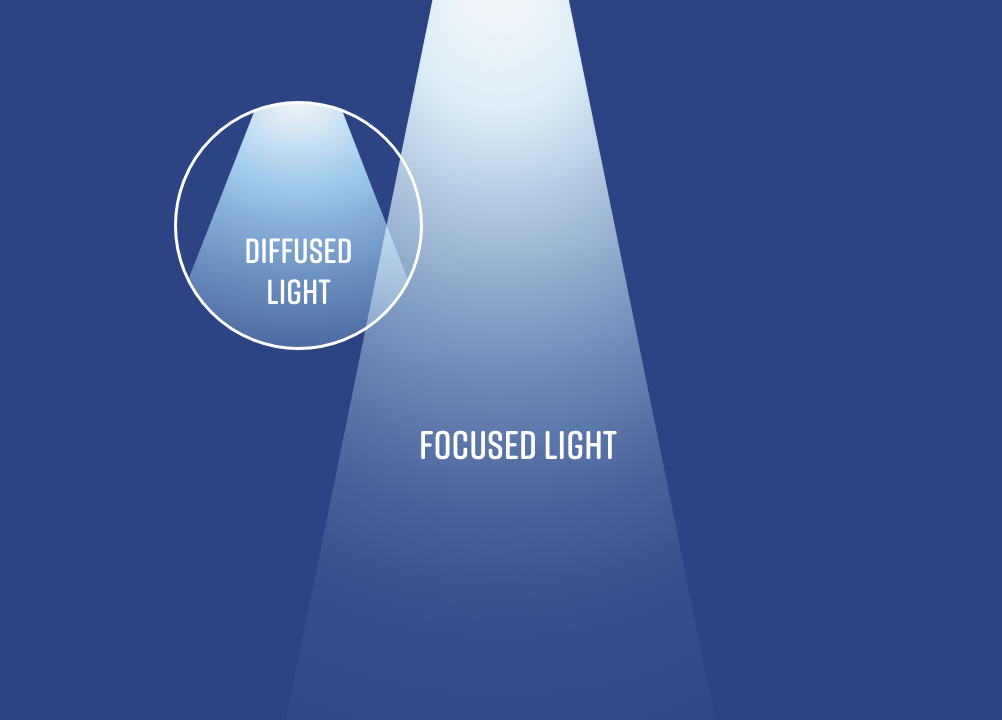 Floating Arm Technology
The EcoFlex task light can be outfitted with multiple sizes and styles of our patented "Floating Arms." The timeless design of these innovative swing arms provide the smooth and easy positioning that users love.
Patented counter-balanced spring mechanism
Arms stay in position with finger touch
Holds position without drifting
Fully enclosed – Easy-Cleaning with No "Pinch Points"
Time tested
Conveniently Dimmable
Dimmable to 25% intensity

Abrasion & Impact Resistant
Utilizes a 2.5" high strength, abrasion and impact resistant nylon resin shade
All Metal Construction
All metal construction for durability – suitable for high use environments
Mounting Options
Sturdy mount can be clamped or bolted to a horizontal surface
Built to Last
50,000hr rated LED life with interchangeable electrical parts for easy replacement
PROFESSIONAL GRADE QUALITY
Made in the USA
Specifications
Explore more of the EcoFlex LED Light Series key features by downloading our brochure.
Download Our Brochure
| | EcoFlex I | EcoFlex II |
| --- | --- | --- |
| Lumens | 350 | 700 |
| Power Consumption | 5.5 Watts | 9.6 Watts |
| Number of LEDs | 4 | 7 |
| Color Temperature | 6000K CCT | 6000K CCT |
| Input Voltage | 100V-240VAC and DC50/60Hz | 100V-240VAC and DC50/60Hz |
| Output Voltage | 12VDC | 24VDC |
| Lifetime | 50,000+ hours | 50,000+ hours |
| UL, cUL, CE Listed | Yes | Yes |
Designed to Work Anywhere
Base Options
Dazor's has several patented base options to choose from for both desk and floor use.