Proper Industrial Lighting Improves Worker Safety
March 2021
Every detail of your industrial operation contributes towards the safety and wellbeing of your employees. From the PPE your team wears to the lubricant that keeps your machines running smoothly. But depending on the type of lighting in your facility, your workplace may be less safe than it should be. Today, LED lighting is the dominant lighting technology for industrial facilities for a variety of reasons. However, perhaps the most critical reason to update your legacy facility lighting to LED is workplace safety.
Metal Halide, Fluorescent, and High Pressure Sodium vs. LED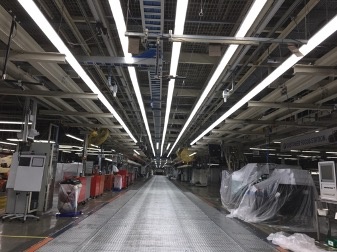 Metal halide, fluorescent and high-pressure sodium technologies have been common lighting solutions for many industrial applications for decades. Metal halide and sodium vapor lighting fixtures have existed since the mid-20th century and have been used to light large open spaces.
High-pressure sodium fixtures, as an example, emit an unnatural orange glow and deliver poor color rendering. In the event of power loss, both MH and HPS technologies have a long restrike time – up to 20 minutes in some cases. Each of these technologies requires significant power to function.
By contrast, today's LED technology is highly energy efficient and long-lasting. Properly designed and manufactured LED fixtures offer superior light output, energy efficiency, reliability, longevity and cost savings. In a 1-1 facility lighting retrofit, LED fixtures will dramatically improve light levels and visual clarity for your workers. They turn on instantly, are environmentally friendly (contain no mercury), consume up to 70% less energy and last up to five times longer than legacy lighting technologies.
Additionally, LED light fixtures are solid-state devices; they have no glass or fragile filaments to break – a critical benefit for many sensitive production environments. They are virtually unaffected by environmental shock and vibration. This significantly reduces on-going maintenance costs associated with bulb and ballast replacement, labor costs and equipment rentals that are necessary to keep legacy lighting technologies operating as intended.
Improving Workplace Safety by Improving Visibility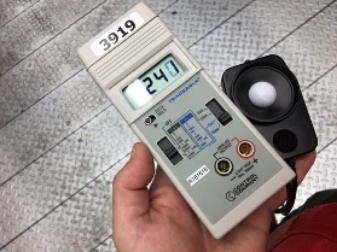 It's estimated more than $250 billion is spent each year on jobsite injuries.1 Poor lighting has been identified by the U.S. Department of Labor to be a leading cause of injuries resulting from slip, trip and fall accidents, and unintended contact with objects and equipment in industrial workplaces.2 Industrial environments are harsh and require high quality lighting that is not only efficient and supports productivity, and but most importantly contributes to employee safety. Clear visibility of hazards reduces accidents causing injuries or death in the workplace by up to 60%.3
Overcoming Challenges of Harsh Industrial Settings
Each industrial facility provides its own set of circumstances that affects employee safety. Some environments contain:
Airborne particulates like dust, chemical vapors, and volatile organic compounds
Windblown dirt and salt spray
Extreme temperatures
Humidity, moisture, and condensation
Corrosion
Shock and vibration
Power surges
Flammable, explosive, and combustible atmospheres
In settings like these, light-duty off-the-shelf lighting is likely inadequate. These fixtures are not designed nor manufactured to withstand various conditions present every day in an industrial facility. LED fixtures need to be tested and proven in rugged industrial environments to ensure they will not fail when needed most.
Creating a Safer Workplace with Industrial-Grade LED Lighting
Dazor Lighting designs, manufactures and installs industrial LED lighting solutions. We work to understand the needs of our industrial customers and provide a variety of turnkey services to retrofit their facilities. Our services include on-site lighting audits, photometric lighting layouts, ROI calculations, and utility incentive processing. Our turnkey projects to include lighting layout design, fixture specification and installation, and proper recycling and disposal of your old fixtures.
Contact Dazor Lighting today to start the conversation about your brighter and safer industrial facility. See how Dazor helped Haake Manufacturing: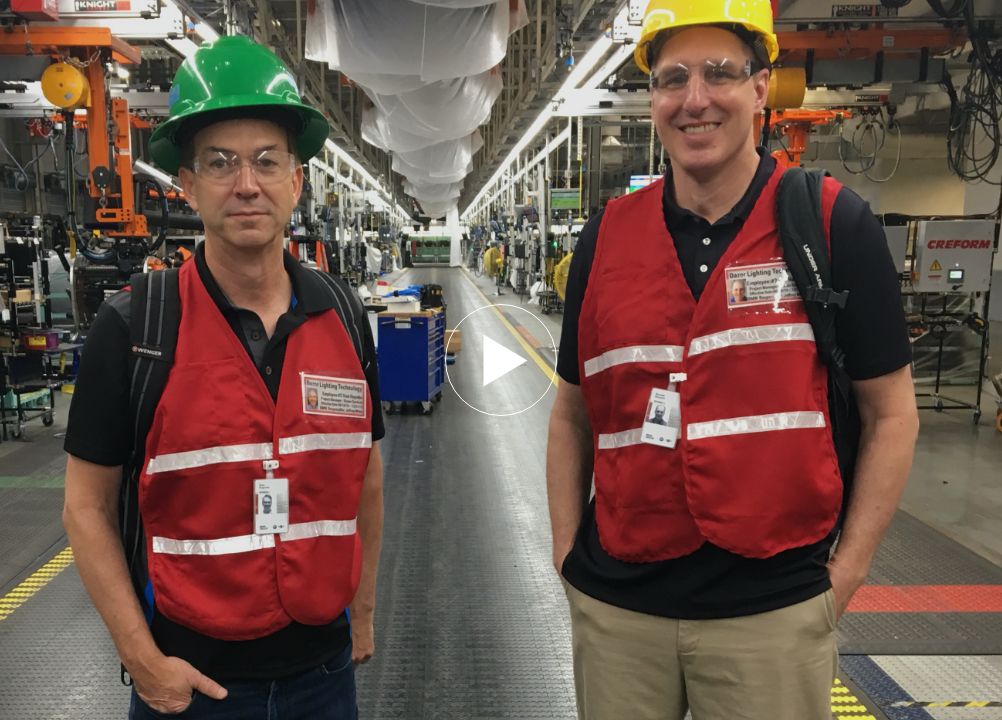 Leigh J.P., "Economic Burden of Occupational Injury and Illness in the United States". 2. U.S. Dept. of Labor, Census of Fatal Occupational Injuries Summary, 2016; Occupational Health and Safety Administration, Mine Safety and Health Administration. 3. Abdou, "Effects of Luminous Environment on Worker Productivity in Building Spaces