Dazor Introduces Broad Area LED Task Light
St. Louis, Missouri, USA. May 30, 2014.
Dazor's new Lumilus™ LED task light harnesses the benefits of today's LED advancements with the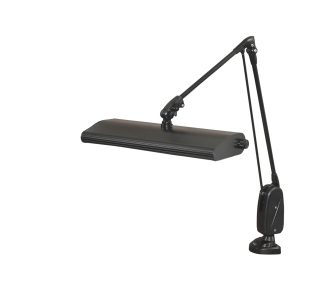 knowledge of personal vision needs at the task level.
Superior LED Task Lighting
"Many task fixtures incorporating LED technology do so without understanding how a person uses the light to help with them work", according to Stan Hogrebe, President of Dazor. "Individual LEDs populated onto a pc board and attached to a housing may actually create an uncomfortable viewing situation. Each LED produces its own beam of light. When these individual light beams are directed onto a task, they can and do create multiple shadows. Instead of being a vision aid to the user, a poorly designed LED task light is a distraction".
Omnidirectional Light Output is Key
Fluorescent and incandescent light bulbs are "omnidirectional" light sources. That is, they emit light evenly over a large area. They are a single point source of light and as such, create only a single shadow that we all expect. The light is smooth, diffused, and color accurate. The Lumilus LED "broad area" task light was designed with this desired light output at the forefront.
All LEDs are Not Created Equal
Ann Settlage, Dazor's Engineering Director, states, "LEDs are not all created equally, nor is the pattern of light output when LEDs are integrated into a complete lighting solution. It's imperative to understand the intended environment in which the LED task light fixture will be used in order to design the desired illumination output. The Lumilus LED task light was designed to closely replicate the color rendering and evenly diffused light pattern of an omnidirectional light source while realizing all the benefits that LED technology has to offer."
High Color Rendering
The selection and array of Lumilus' high CRI LEDs in combination with proficient diffusion techniques results in a very pleasing light for the user. "Simply stated, the illumination produced is a color accurate uniform white glow", Settlage adds. "Our DiffuseTec™ light management system maximizes light transmission while producing an even light without multi-shadowing. Lumilus produces 30% more light than a 3-bulb fluorescent fixture while using 30% less power."
The Versatile Lumilus LED Task Light
The Lumilus LED task light has a smooth on/off dimming control and is available on a variety of Dazor's floating or gooseneck-style arms, can be mounted to horizontal, sloped or vertical surfaces, a rolling or pedestal floor stand, or onto virtually any end-user equipment. Lumilus is UL / cUL listed and CE marked. It is manufactured in St. Louis.